We spend our 3rd day of vacation at Magic Kingdom.  Getting to Magic Kingdom wasn't what I was expecting.  Were were dropped of at a transportation center, which is also where the parking lot is.  Here you can either take the Monorail to Magic Kingdom or Epcot or a ferry across the lake to Magic Kingdom.  We decided to take the ferry.   We got there right away when it opened and watched the show before as we walked up to the gate.  It was cool to see the opening and the characters coming in on the train.  We decided once we got there and everything figured out that we were going to take the train to the back of the park to Fantasyland.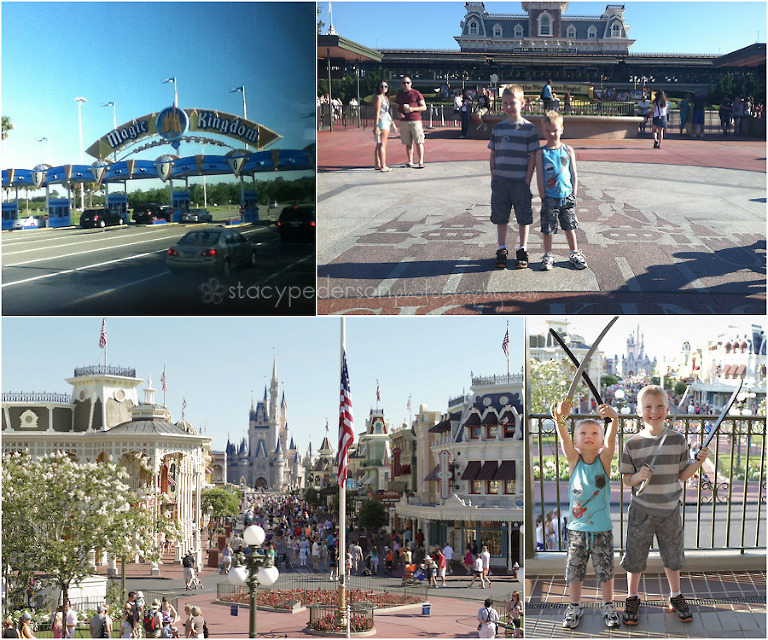 We only did a small corner of Fantasyland and then went on to Tomorrowland.  We attempted to meet some characters, but Collin didn't want to.  Shane had to hold him.  I think he did give a few high fives.  Tyler didn't want any pictures taken.  I am glad Grandma Robin didn't purchase any autograph books for them like she was planning on.  Of course later in the trip Tyler was bummed he didn't have one.  In Fantasyland we did The Barnstormer jr rollercoaster, Dumbo the Flying Elephants (which has a fun indoor play area before you go on the ride), Soak and Splash Station.  Then it was off to Tomorrowland where we hit the Speedway and Astro Orbiter.  Tyler's absolute favorite was the Buzz Lightyear's Space Ranger Spin.  Of course Collin weaseled out on that one since we was afraid that it was too dark in there.  We went on the Monster's Inc Laugh Floor which was a fun interactive comedy show.  I think it was neat how they used a movie style show and made it interactive with the audience members by picking on them.  The boys really enjoy it.  We did the People Mover which was a monorail/tram type ride that took you around Tomorrowland and through parts of the different rides so you could see what was happening inside.  Few of the areas were dark  and Collin was freaking out again.  After that we got back on the train and went to Fronteirland.  Splash Moutain was closed for some maintenance when we got over there.  I was bummed about that.  We got FastPass tickets for Tyler and I for the Big Thunder Mountain Railroad rollercoaster.  

Next we headed into Adventureland.  The boys were starting to get a little tired, but got a little rejuvenated after some ice cream.  Over there was the Pirates of the Caribbean gift shop, chalked full of fun things for little boys.  The deal was if they behave they get to go and pick out something for at the end of the day there.  We just don't want to be caring toys around all day, plus they had to earn them by being good.  Next we took a 'log raft' over to Tom Sawyers Island .  There was lot to explore over there, like caves, old mills, forts.  Tyler had fun looking for lizards.   It was nice and shaded and felt great to get out of the heat.  I am guessing we spent at least an hour over there running around.  Then it was time for Tyler and I to go on the rollercoaster.  It was a pretty fun coaster and just up my alley.  No monsterous climbs and just when you thought it was done, there was more.  After that we started to wander to the front of the park.  Tyler's feet were getting tired at this point and pouty about not getting a toy so him and I sat and had a little discussion about attitude of gratitude and brattiness while Collin and Shane went up the Swiss Family Tree House.  After this attitude adjustment Tyler and Shane went on the Big Mountain Railroad while Collin and I went on the Magic Carpets of Aladdin.  Finally it was time to hit the gift shop before we left this area.  So swords it was for both and all was happy again, except for some tired feet.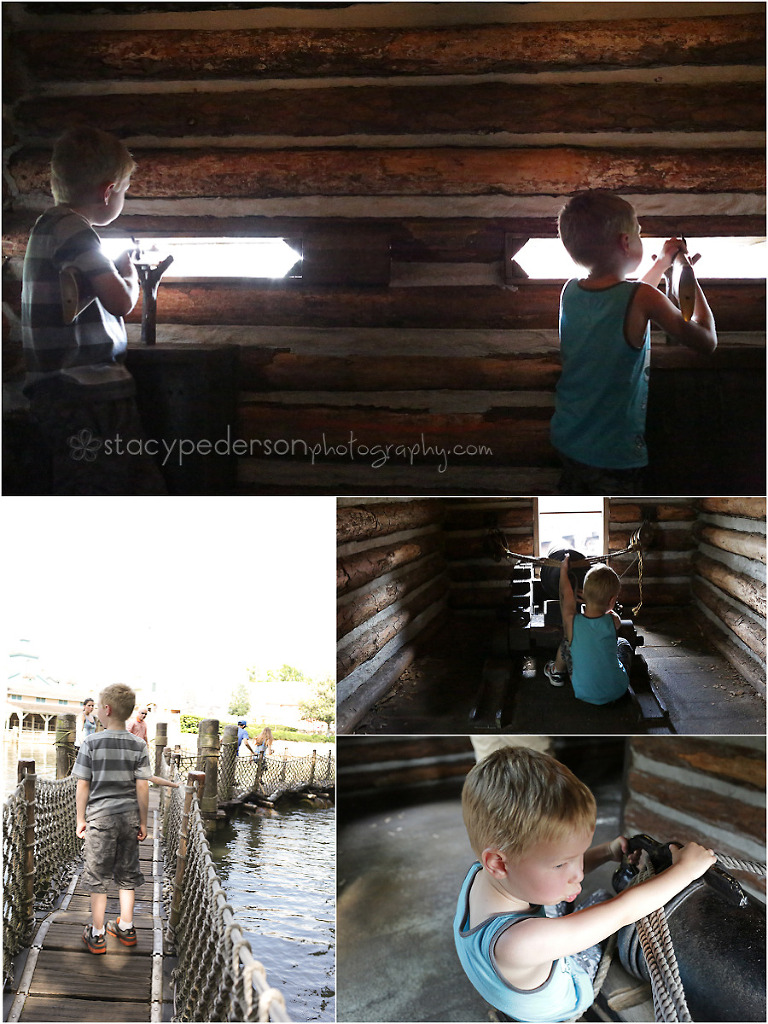 Well we were off to find supper and we caught one of the parades in the meantime.  Unfortunately we lost the cover/sheath to Collin's sword.  I put it in the side pocket of the backpack instead of in the backpack itself and lost walking to find a good spot at the parade.  Good thing it was Collin, if it was Tyler we would have been walking back across the park to buy another sword.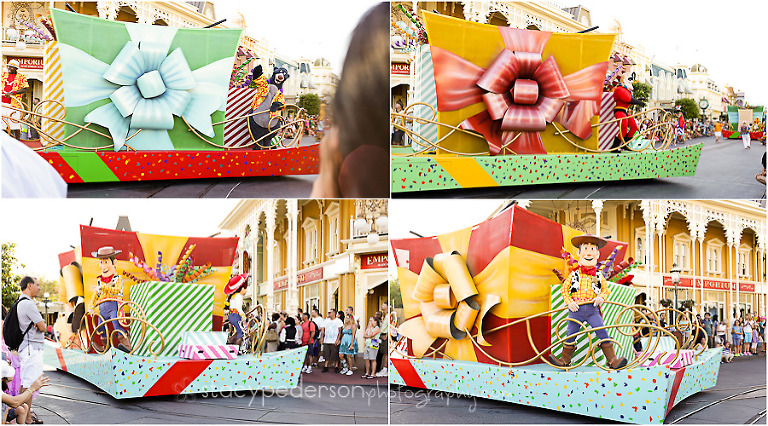 After super we we walked to finally see the castle.  Yes I suppose we are a bit backwards.  Since we have boys, the are not too much into princesses and castles.  So I finally got our picture taken in front of the castle.  I convinced the boys they had to take this one and only nice picture for mommy.  On the way out we finally convinced them to meet Mickey Mouse.  Collin was not into meeting the characters, but he went right up to Mickey with no convincing.  I was so happy.
Well we had a choice to make the shuttle right as the park was closing or the shuttle an hour after it closed.  So we decided with boys with tired feet that we wouldn't take the last one.  Tyler was pouting that he was going to miss the fireworks, but it worked out great in the end.  We took the ferry over and sat our butts on the dock and sat and waited.  Disney sure gets it right.  Beautiful view and also the music was piped in over there to go with the fireworks.  Tyler actually thought he might have the best place since he didn't have to listen to the load bangs of the fireworks.  I think it was neat to see them reflect of the water.  So it was the best ending to a great and fun filled day.