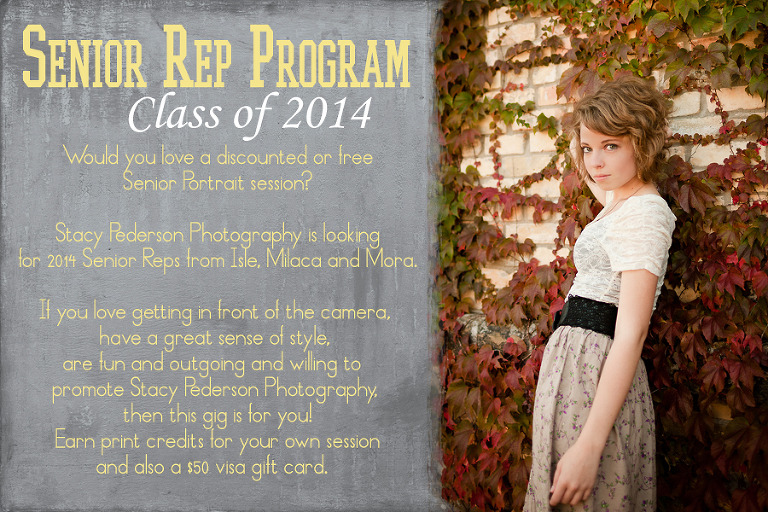 Would you love a free or discounted Senior portrait session?  Stacy Pederson Photography is currently looking for 2014 Senior Representatives.  If you love getting in front of the camera, have a great sense of style, are fun and outgoing and willing to participate in promoting Stacy Pederson Photography, then this gig is for you!
There is one limited spot available per school district, so please read the details and requirements carefully!
In order to participate in the 2014 Senior Rep Program you must:
~Live and attend High School in Isle, Milaca, or Mora.
~You and your parent/guardian must agree to promote ONLY Stacy Pederson Photography through your Senior year (2014)
~Your parent/guardian MUST sign a model release and Senior Rep agreement.
~You must use the custom Facebook cover page (with images from your mini session) that will be provided to you for and also use 1 of the 5 watermarked images on Stacy Pederson Photography's Facebook Fan Page as your profile image for minimum of 2 months.
~A discounted session fee of $50 is required upon being accepted to the 2014 Senior Rep Program.  Get 2 booked referrals and this will be turned into a print credit for your full Senior Session that is too be booked by October 1st, 2013.
What do you receive??
~A FREE mini-session in spring of 2013.  This session will last approx. 30-45 minutes with 2 clothing changes and 5 images that will be used to advertise throughout the year.  You will be provided 25 personalized custom rep cards to pass out to your classmates graduating in 2014. This gallery will produce 5 digital images that will be yours once your order is placed for your full Senior Session scheduled at a later date.
~A Senior Rep blog post featuring you!
~A full Senior Portrait Session to take place before October 1st, 2013.  Remember if 2 referrals are booked, your $50 Senior Rep agreement fee turns into a print credit.
Referral Discounts:
1-2 Referrals – $25 print credit per each booked referral.
3-4 Referrals – 10% off your print order and a $30 print credit per each booked referral.
5-6 Referrals – 10% off your print order, $35 print credit per each booked referral and a $50 Visa Gift Card.
In order to be considered, you must agree to all terms and fill out the application with your parent/guardian below.  Please contact Stacy at stacy@stacypedersonphotography.com if you have any questions!  All 2014 Senior Reps will be chosen by May 10th, 2013.  Please take time and also look through my investment page to see what Senior Products I have to offer.